The Office of Multicultural Ministries joined the hundreds of thousands of protesters who marched on the streets of Washington, D.C. on January 22, for the annual "March for Life" pro-life event. March for Life is held annually around January 22, the anniversary of the Supreme Court decision, Roe vs. Wade, which legalized abortion in the United States. Thus, the March for Life unites protesters and advocates from all over the country in a fight to defend human life, making it the biggest and most popular pro-life event in the U.S.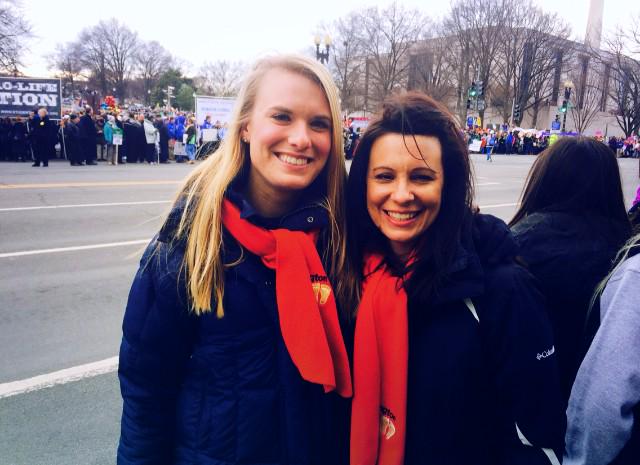 But the March, itself, is not the only event held in honor of the nearly 56 million abortions that have occurred since the Roe vs. Wade decision in 1973[1]. Various Masses and rallies are held in the days leading up to the March, including Masses at the Basilica of the National Shrine of the Immaculate Conception and the Verizon Center. Our diocesan office of Youth Ministry, held two (HUGE) Life is Very Good pre-events at George Mason University's Patriot Center, which both were sold-out events (seating 10,000 people – mostly youth) in preparation for the March. These Life is Very Good events are the hottest ticket in town, are a must attend, and tickets sell out quickly. Check out our Youth Ministry Life is Very Good Video: 
But the March, itself, ultimately brought out the largest number of people – from babies to the elderly, and of many cultures and races. As Jeanne Monahan-Mancini, president of the March for Life Education and Defense Fund, claimed, "We have come to represent the unborn that cannot speak for themselves. We have come to celebrate life… We have come to tell the world that abortion is evil and destroys innocent lives. It has to stop." [2]
While our Office participated in the March for Life, so did many of our Ministries! We found Phyllis Johnson and Michele Jones from the Black Catholic Ministry, who also came along with Deacon Al Anderson and his wife, Beverly. Many from our Vietnamese Catholic Communities came out to march, as well, including Lieu Nguyen and Liem Le. We were incredibly lucky to see as many friendly faces as we did, and to have such beautiful weather.
We would love to capture more of our diocesan Multicultural diversity at the 2016 March for Life. Mark your calendars and join us next year as we continue to defend life from conception to natural death.
Sources:
[1] http://www.lifenews.com/2014/01/12/56662169-abortions-in-america-since-roe-vs-wade-in-1973/
[2] http://panampost.com/adriana-peralta/2015/01/26/anti-abortion-march-for-life-rallies-200000-in-dc/